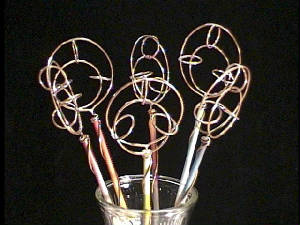 Brighten your day with bubblewands!
Thank you for your interest in dancingbubbles bubblewands. We're happy to design and build guaranteed quality products. We hope you find this site good enouph to interest you in bubble wands and unique handcrafted items.
Please remember to visit our new products page.
Bubblewands make fantastic wedding gifts!
This picture was given to us after a beautiful wedding with the bubblewands.
The Bride and Groom had custom designed bubblewands.
each bubblewand is made with wood copper wire and a glass marble